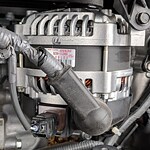 The alternator is one of the most important elements of a vehicle's engine. The alternator is responsible for providing power to the electrical elements of a vehicle when it is in operation. Historically, the alternator was known as the generator.
You need to be absolutely certain that the alternator on your car, truck, or SUV is always in top-notch condition. There are some warning signs that your alternator is not functioning properly. The most obvious is the illumination of warning lights on the dashboard that read ALT or GEN. Other signs include dim lights when the vehicle is running.
If you have questions or concerns about your alternator, visit us at Philpott Pre-Owned Super Center. Located in Nederland, our experienced team of service professionals can tend to all of your needs. We can arrange any type of service appointment for you any time that is convenient for you.